"Hello, June! Now, the days are going to be hotter and the nights even longer."

Two more of my babies getting ready to leave the nest!
Congratulations to Toby and Leo and the Montgomery Blair Blazers Class of 2022!
TAKOMA PRIDE – JUST SAY GAY!

We are celebrating our LGBTQ+ community during Takoma Pride Day on Sunday, June 12, 2022. This year's theme is Just Say Gay. On Laurel Ave, outside of the Takoma Park Farmers Market, visitors are encouraged to take pics at the Just Say Gay rainbow flower selfie station and post with the tag #JUSTSAYGAYTKPK! Read more details on Main Street Takoma.

First Look: Sandlot Anacostia Opens Soon With Go-Go and Good Eats

The highly anticipated outdoor venue is rolling out in June. To find the full list of details and what to expect, check out the article HERE.

Celebrate Washington, DC's LGBTQ+ Community With an Array of Can't-Miss Events

The Capital Pride Alliance serves DC's LGBTQ+ community through entertainment, community outreach and diversity celebrations. Each year, the nonprofit organization curates Capital Pride, which features a popular collection of events. Check out the full list of events HERE.

I'm thrilled to announce that Compass has found our home on the Fortune 500 alongside some of the world's most respected companies like Apple, American Express, and Nike! In less than 10 years, we have become the #1 real estate brokerage in America (RealTrends 500) and one of the youngest companies ever to make the Fortune 500.
In the last year alone, almost a quarter-million clients put their trust in a Compass agent as they made one of the biggest decisions in their life – buying or selling their home.
Fixed mortgage rates move lower for the second week in a row
For much of this year, mortgage rates had been steadily climbing higher, reaching levels not seen in more than a decade. But these past few weeks have offered a bit of a reprieve.
According to the latest data released Thursday by Freddie Mac, the 30-year fixed-rate average dropped to its lowest level in five weeks, falling to 5.1 percent with an average 0.9 point. (A point is a fee paid to a lender equal to 1 percent of the loan amount. It is in addition to the interest rate.) It was 5.25 percent a week ago and 2.95 percent a year ago.
9 Best Places to Buy a Mountain
Vacation Home in the U.S.
Mountains have always provided travelers with a welcome reprieve from the hustle and bustle of everyday life. So, it should come as no surprise that more and more people are looking to relocate and buy property in one of the many mountain ranges extending all over the country. Second-home markets in mountain destinations are exploding, attracting people with an array of outdoor activities, fresh air, and stunning views. If you're thinking about buying a mountain vacation home, here are the most attractive real estate markets in the U.S. right now.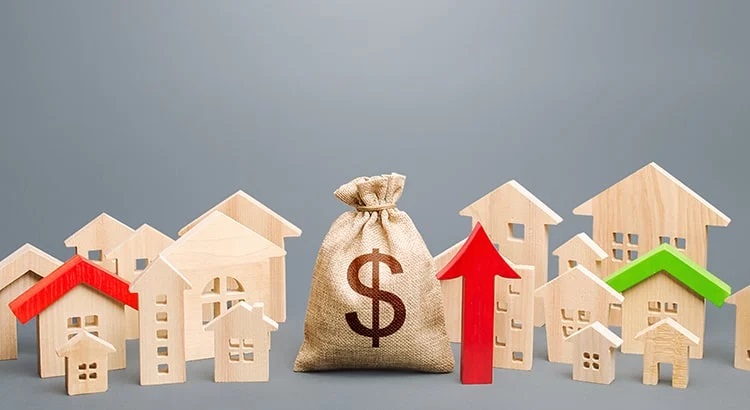 Sellers Have an Opportunity with Today's Home Prices
As mortgage rates started to rise this year, many homeowners began to wonder if the value of their homes would fall. Here's the good news. Historically, when mortgage rates rise by a percentage point or more, home values continue to appreciate. The latest data on home prices seems to confirm that trend.
According to data from CoreLogic, home price appreciation has been re-accelerating since November. This is largely due to an ongoing imbalance in supply and demand. Specifically, housing supply is still low, and demand is high.
Less Is More: Creating a Minimalist Living Room
Minimalist interior design translates to more than an uncluttered, sparsely decorated room. Birthed from modern design, minimalism embraces simplicity, reducing an interior to what's necessary for the space to function well. But this clean, no-fuss style doesn't need to feel uninviting. Balance and warmth are crucial to delivering the elevated beauty this style can create.
How to find the right handyman to tackle your to-do list
There are likely several things around your place that need to be repaired, but often, you don't have the skills, tools or time to keep your home from falling apart.
Enter the handyman service. Hire one and you can turn over your home's to-do list to an expert. When you contact a handyman service, the more details you provide the better. Keep in mind that workers often have strong backgrounds in some areas — say, carpentry — and know enough to do small jobs related to other trades.
But nonprofit Washington Consumers' Checkbook receives a lot of complaints about handyman services. Through special arrangement with The Washington Post, you can access Checkbook's ratings of local handyman services for quality and price free of charge until June 20 via: Checkbook.org/WashingtonPost/Handyman.
Best Garage Remodeling Ideas

for Impressive Curb Appeal

Does your garage need a little TLC or a total refresh for better curb appeal? Use these garage remodeling ideas to revamp the space with added style. From quick spruce-ups to major updates, there's a garage remodel project for every budget.
Father's Day Brunch Recipes Dad Will Love


Father's Day falls on a Sunday for a reason: brunch! Celebrate Dad with all the mid-morning decadence he deserves by making savory and sweet brunch recipes that are sure to wow. Just don't let him do the dishes. It's his day!
1970's Design Is Making a Major Comeback


The 1970's design trend isn't overwhelming modern interiors just yet, but the new season is a harbinger, a sophisticated extraction of the era's good moments. New trends are cherry picking elements such as low-slung seating, playful florals, and even wood paneling. These are all seeing a sophisticated resurgence!
© Compass 2022 ¦ All Rights Reserved by Compass ¦ Made in NYC
Compass is a licensed real estate brokerage that abides by Equal Housing Opportunity laws. Information is compiled from sources deemed reliable but is not guaranteed. All measurements and square footages are approximate. This is not intended to solicit property already listed. Compass is licensed as Compass Real Estate in DC and as Compass in Virginia and Maryland. DC office: 202.386.6330. Maryland office: 301.298.1001. Photos may be virtually staged or digitally enhanced and may not reflect actual property conditions.